IPOB chieftain Obi Ikechukwu fears for life, goes underground
Posted by News Express | 11 December 2019 | 2,016 times
•IPOB chieftain Obi Ikechukwu: On the run for his dear life
A chieftain of the Indigenous People of Biafra (IPOB), Obi Ikechukwu, has gone underground because of fears for his life as a result of alleged manhunt for him by Nigerian soldiers on account of his pro-Biafra activities.
One of his relatives, who lives in Nigeria's commercial capital, Lagos, told News Express that Obi was last seen in December 2017.
"I last saw him in Ikeja Lagos in December last two years. Since then, neither me nor any other member of our family has set our eyes on him," the man, who asked not to be named for fear of persecution by Nigerian authorities, recently told News Express by phone.
The 24-year-old Obi Ikechukwu was said to have gone underground after soldiers reportedly launched a manhunt for him in a bid to retrieve videos of atrocities by Nigerian troops during the controversial brutal operation in South-East Nigeria – the Biafra heartland – known as Python Dance.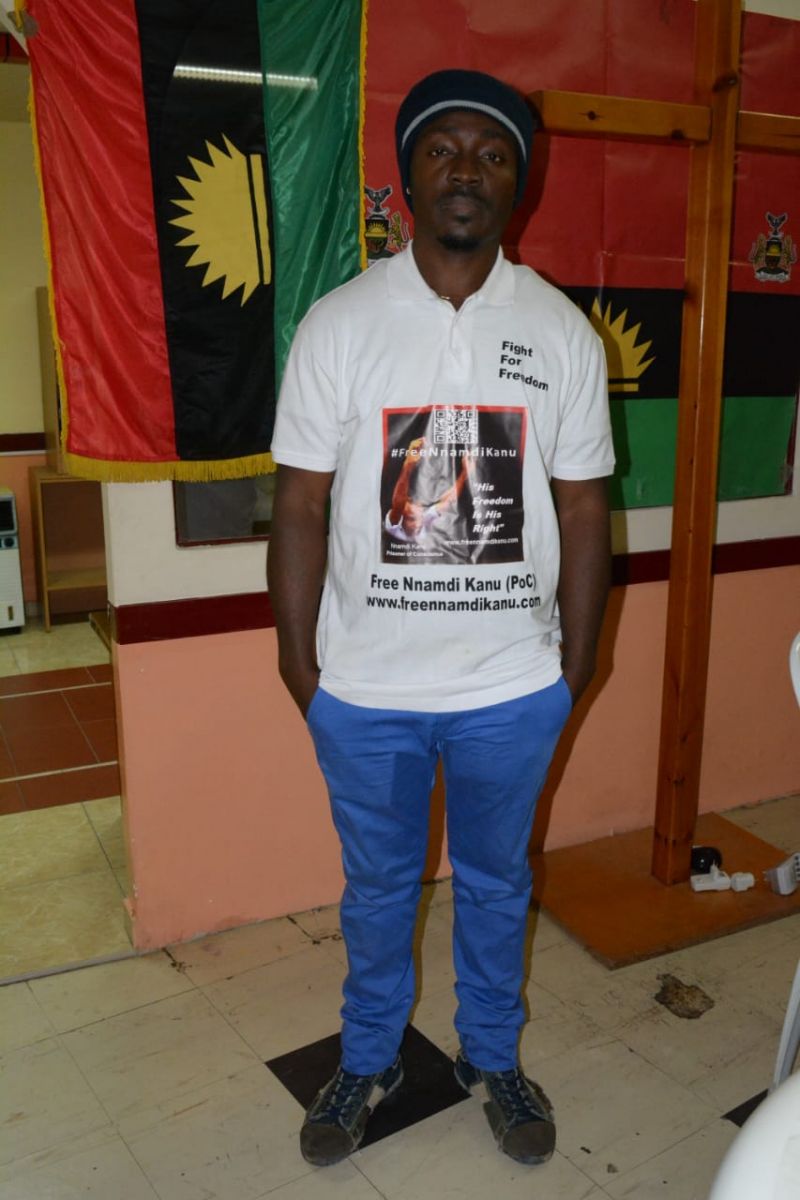 As part of the operation, several IPOB Biafra activists were killed in cold blood and the country home of IPOB Leader, Mazi Nnamdi Kanu, in Afaraukwu, Umuahia, Abia State, sacked. Kanu and his parents managed to escape before the invasion but both of his parents died recently in quick succession – reportedly due to the trauma arising from the deadly operation. His mother, Ugoeze Sally Nmeme Kanu, died on August 30 this year and, while arrangements were being made for her burial, his father, His Royal Majesty, Eze Sir Israel Okwu Kanu, died of shock arising from his wife's passage.
On his ordeal before his escape from Nigeria, Obi Ikechukwu once complained, saying: "Soldiers invaded my place (apartment) in Ezialaeke Owere-Ebeiri Orlu in Imo State and took me with them. They demanded from me the master card of the videos of their attack on our Leader, Nnamdi Kanu's home, and my e-mail password.
"In the process they beat me almost to the point of death but I survived by the grace of God. That made me to leave my home hometown, Orlu, for Lagos.
"However, within weeks the soldiers discovered that the videos were still appearing on social media. They started looking for me and I started running from place to place."
He subsequently went underground and is said to have finally escaped from Nigeria when they killed one of his close friends and fellow Biafra activist in Badagry Lagos.
Since then the human rights situation in Nigeria has become even worse. The government has become more intolerant of dissenting voices, has continued with Operation Python Dance under a new name 'Exercise Atilogwu Udo', does not obey court orders and has even resorted to invading courts to forcibly re-arrest people granted bail by the courts.
The latest example was the incident of Friday, December 6, 2019 when operatives of Nigeria's secret service, the Department of State Services (DSS), invaded a court in Abuja, the Nigerian capital, and rearrested activist and SaharaReporters Publisher Omoyole Sowore during a court sitting. Sowore's offence is that he attempted to organise a protest over worsening living conditions in Nigeria. He was arrested and remains in detention despite court orders.
Source: News Express
---
Readers Comments
No comments yet. Be the first to post comment.
---
You may also like...