Amesi community on the path of greatness — UK Chairman
Posted by News Express | 4 December 2019 | 1,509 times
Amesi community of Anambra State, South-East Nigeria, is on the path of greatness, according to Dr. Martinsixtus Ezejimofor, Chairman of the United Kingdom and Ireland Branch of Amesi Improvement Union (AIU).
The London-based scholar and community leader gave the verdict while speaking at the inauguration of the branch last Saturday, November 30, 2019. The fun-filled event held from 5pm at Freedom Arena London, attracted about 200 people. It was spiced with dances and masquerade performances by Igba Eze cultural troupe, raffle draw and entertainment for kids.
Dr. Ezejimofor in his welcome address hailed the people of Amesi umu Akalabor as "men and women of ingenuity, industry and capacity".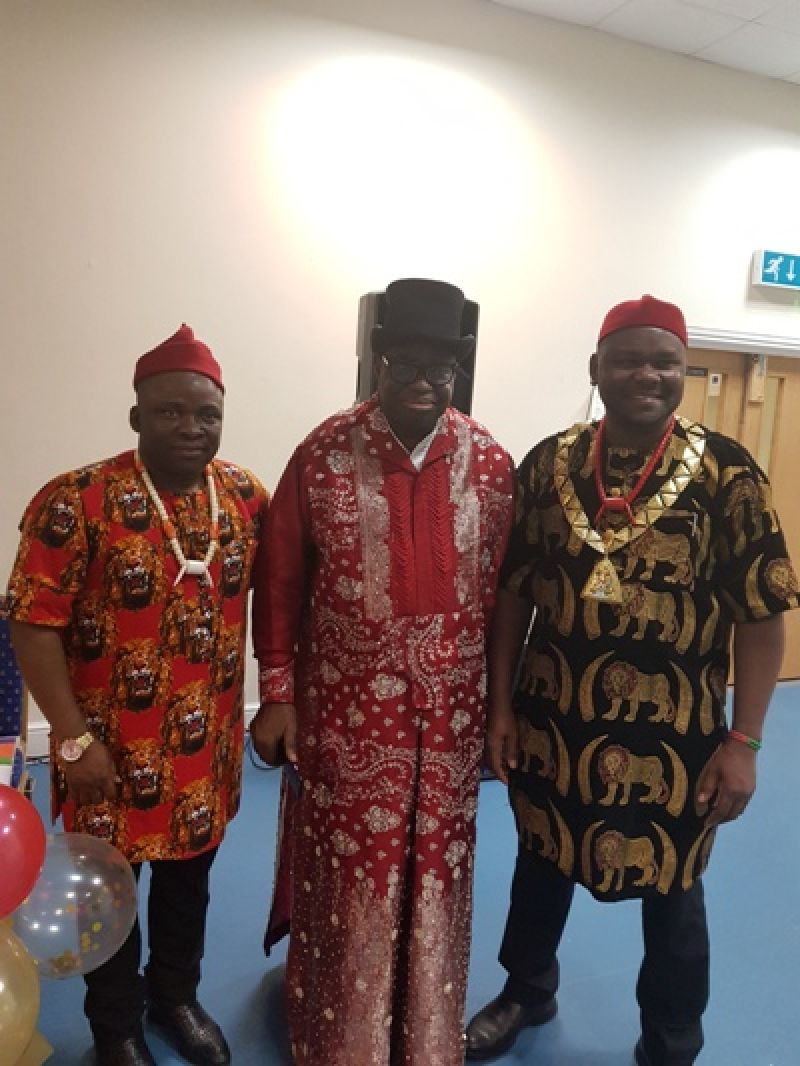 "I am highly elated that we, as a people, have decided to take the bull by the horns in finding answers to the numerous socio-economic and cultural challenges facing our dear community here in the United Kingdom and Ireland, and back home. The Chinese have, through their proverb, informed us that "a journey of one thousand kilometers begins with a step". "Therefore, with an abiding faith in God and a profound confidence in our collective strength as a homogenous race, I most sincerely make this clarion call – let us not slumber or stumble in this commendable journey," the Branch Chairman said.
He thereafter declared that "Amesi community is on the path of greatness. We have to revive, resuscitate and, absolutely, indeed, re-chart a new way of life for our people, today and posterity."
Continuing, Dr. Ezejimofor said: "For the purposes of clarifications, this generation and hereafter, will uphold our vision of letting our people understand that we have dual responsibilities to wit: Amesi community in United Kingdom/Ireland and Amesi community in Nigeria. The practical import here is that, in all we do, there is the urgent need to unify our people in order to speak with one voice. At this juncture, the wise words of Kwame Nkrumah of Ghana come to play. According to him, "The strength of the organised masses is invincible; we should be organised more than ever before, because organisation decides everything".
"Taken together, let us, significantly proclaim it to the rooftops that, Amesi, its people and its community, whole and entire, have unanimously agreed to lift this enclave of ours from its present lull position to the Olympics height of glory. In carrying this tall order, we must be focused in our thoughts, diligent in our actions, thorough in our deeds and tolerant in our interactions with one another. In this way, we will be able to hew waters from stones. This, appropriately, will propel us to a quantum leap to introduce programs that will help our wards born in the United Kingdom and Ireland as well as those back home."
The Branch Chairman identified one of the greatest challenges confronting Amesi people in UK and Ireland as the failure or inability of their children to speak the Igbo language. This, according to him, is inexcusable. His words: "It is never an excuse that because they were not born in the Igbo village in Nigeria and so they cannot speak the language. After all, Yoruba kids, no matter where they are born, speak their language effectively. In other words, we must a way of ensuring that our children here in United Kingdom and Ireland speak the Igbo language flawlessly. This will go a long way to promoting our culture as well as encouraging our unity and togetherness."
On the agenda of his administration, Dr. Ezejimofor said: "As a way of shifting away from economic stagnation and endemic crime wave ravaging the UK and Ireland we have decided to look inwards to find organic solutions not only for us adults but most importantly for our children. Such projects like Igbo language classes, cultural and traditional awareness training, relevant excursions, inter and intra group competitions designed to engender group support and self-development. Although securing the future of our children remains paramount, some of these projects provide systemic forces necessary to counteract negative forces propelled by information technology and social media. We are all aware that crimes severely damage a people's future when the youths of such a nation freely involve in vices like drugs, robbery, kidnapping, credit card fraud etc.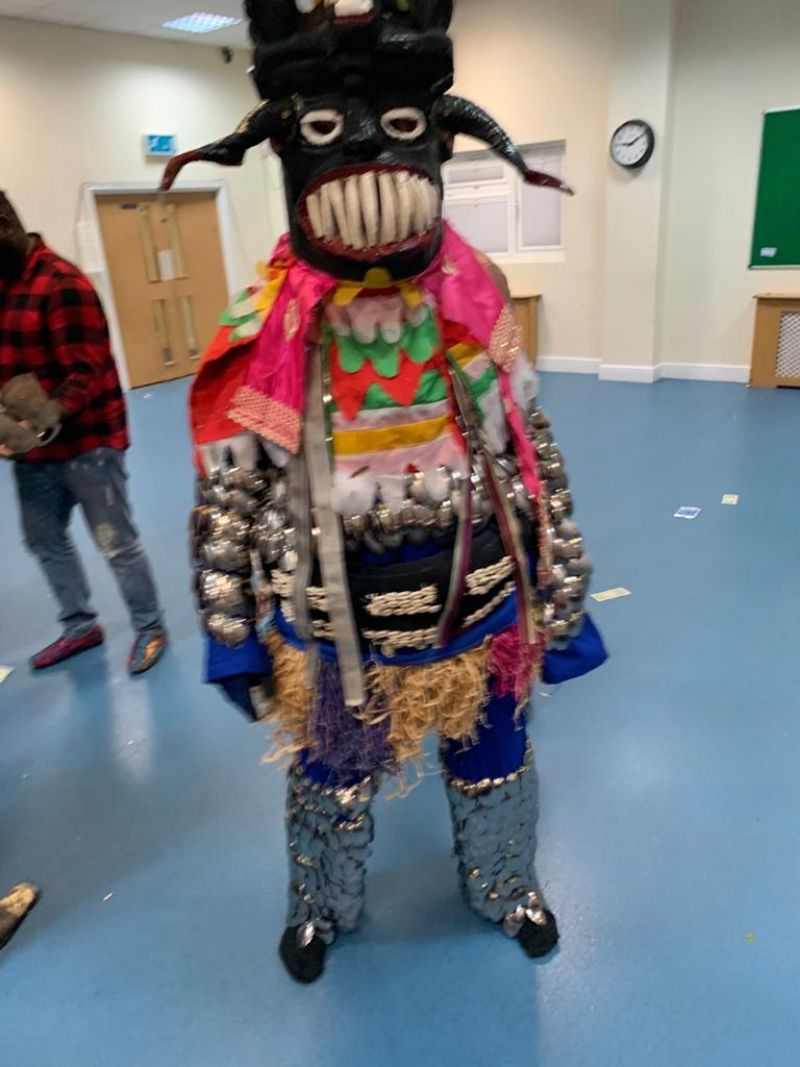 "In all, the primary objective of this union is for every Amesi man or woman and youth alike to be his or her brother's keeper. That is, we must work together, walk together, swim together, and reap together. Of course, if need be, we sorrow together. This will most evidently lead us to the stage of embarking on community projects that will obviously demonstrate to our people back home of our sincerity towards the growth and development of Amesi town. From here, the process of think home philosophy – investing home, building houses, businesses, and projects home – will be realised."
•MAIN PHOTO: Cutting of cake by the mother of the day, Chief (Mrs) Janet Ezeabasili, flanked to the right by the President of AIU, UK & Ireland, Dr Martinsixtus Ezejimofor (middle), and other AIU members and special guests.
OTHER PHOTOS:
•Dr Martinsixtus Ezejimofor, President, Amesi Improvement Union (AIU) UK and Ireland; Dr. Tare Biu, President, West African College of Pediatricians, UK (middle); and His Worshipful, Hon Ernest Ezeajughi, Mayor the London Borough of Brent Council, Special Guest of Honour
•Agaba masquerade from the Igba Eze cultural troupe on display and enthralled people admiring the masquerade performance
Source: News Express
---
Readers Comments
No comments yet. Be the first to post comment.
---
You may also like...