Jehovah's Witnesses hold Igbo Language Convention near Lagos
Posted by News Express | 1 December 2016 | 7,196 times
A three-day Regional Convention of Jehovah's Witnesses in Igbo Language has been concluded at Daluwon, near Lagos. The convention, which has as theme, "Guzosie Ike N'ebe Jehova No" (Remain Loyal To Jehovah"), attracted a total of 1,316 delegates to the Assembly Hall of Jehovah's Witnesses. Daluwon is located between Redemption Camp and Ofada town.
The attendance is considered significant because Igbo is neither the lingua franca nor the language spoken by the natives.
The three-day convention lasted from November 25 to 27. The programme on Friday focused on how Jesus Christ set a perfect example as God's loyal one. Saturday was devoted to analysing what the Bible book of Job teaches Christians about remaining loyal despite intense suffering.
The star attraction on Sunday was a gripping feature-length film on how the Biblical King Hezekiah "held fast to Jehovah" while being besieged by his enemies. (2 Kings 18:6).
The convention featured talks, interviews and short videos. A total of 13 newly dedicated persons comprising seven males and six females dedicated themselves to Jehovah and were baptised during what several delegates described as a spiritual banquet.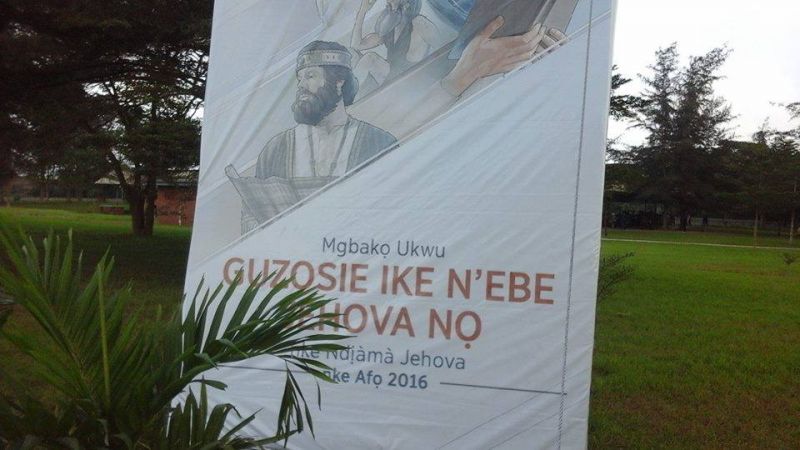 Brother Noah C J Ubani, Overseer of the News Media Department of the convention, told News Express that the convention was for Jehovah's Witnesses and interested members of the public in Lagos and Ogun states who speak or understand Igbo Language. "There are 14 conventions holding on this ground this year, majority of them being in English and Yoruba languages," he said.
Ubani disclosed that the Igbo Language Convention was first held in 2015. "This is the second in two years. The 'Imitate Jesus!' Regional Convention held in December last year attracted only 11 congregations with a peak attendance of 1,004 delegates. But this year is a bumper, attracting 18 congregations," he said.
On why an Igbo Language Convention is being held far away from Igboland, Ubani explained that Jehovah's Witnesses believe that "it is important for people to hear the good news of God's Kingdom if possible in their mother tongue because they understand it better." He backed up the belief by quoting what happened on Pentecost Day in 33 CE when people who gathered in Jerusalem to listen to Jesus' apostles heard the good news in 14 different languages.
Ubani disclosed that Jehovah's Witnesses started forming Igbo Language congregations in the Lagos and Ogun area in 2014, adding that so far 17 have been formed, with others on the way. "Jehovah's Witnesses," he said, "are preaching in 18 languages in Nigeria. This is in fulfillment of Revelation 14:6, which speaks of an "angel flying in midheaven, and he had everlasting good news to declare to those who dwell on the earth, to every nation and tribe and tongue and people."
•Photo shows a cross section of delegates at "Guzosie Ike N'ebe Jehova No" (Remain Loyal To Jehovah") Regional Convention of Jehovah's Witnesses held at Daluwon, near Lagos, Nov. 25-27, 2016.
Source: News Express
---
Readers Comments
No comments yet. Be the first to post comment.
---
You may also like...